South Lake Tahoe Bike Trails Guides & Maps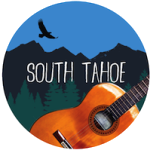 Our South Lake Tahoe bike trails provide a gateway to self-guided adventure with no shortage of places to visit while riding a bike. The entire family can enjoy one such ride together; the South Tahoe Beach Cruise as it passes seven public beaches between the Stateline corridor and the Camp Richardson area – each with restrooms and some with food and beverages.
Bicyclists that are more adventurous have a wide variety of mountain bike trails to help develop their skills or challenge them. The Bijou Bike Park is great option for the family to spend the day together. It is located at the Bijou Community Park and has all the park amenities, including the bike park features with pump tracks, BMX racetrack, jumps and skills course.
Mountain bikers seeking challenging single-track trails will be happy to learn there are many – ranging from Green, Blue or Black challenges. Power Line Trail, an easy Blue, is a favorite gentle undulating trail that is not technical and about an hour-long ride.
Freeride cyclists wanting tabletop jumps, log rides and berms will enjoy the Corral Trail area. Expert riders can test their high altitude backcountry stamina and skills with two local favorites: Star Lake at the base of Freel Peak, Tahoe's tallest mountain at 10,881 feet, and the Van Sickle Loop. Each of these rides require physical stamina, technical skills, self-support capability and about three hours to enjoy a ride of a lifetime.
Your South Tahoe experience would not be complete without entertainment. On any given day, music is available at Heavenly Village or on weekends on the beach at the Beacon Restaurant at Camp Richardson. During the evening, the town comes alive with musical performances at many venues with a variety of genres to select from – even world-known recording artists and magicians at Harrah's Lake Tahoe, Hard Rock Hotel, Harvey's Outdoor Theater, and MontBleu Hotel in South Lake Tahoe.
How to Use the South Lake Tahoe Bike Trails Map
1) Browse the ride list, click the name of the ride to see its placement on the map OR Click the icons on map to view pop-up ride information.
2) Click "Ride Details" to be taken to the individual ride page with maps, directions, photos and more.

Phones/Tablets: We recommend viewing the map in landscape/horizontal position.