Carson Valley Bike Rides – Guides & Maps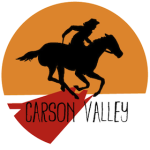 Carson Valley bike rides feature trails and roads less traveled now than during the late 1800's when mass emigration, Pony Express mail delivery and Wells Fargo Stage Lines traveled through the area, (named after scout Kit Carson,) in route to the gold fields near Placerville, California and the silver fields in Virginia City, Nevada.
Today, you can ride your bike on these same routes. It is very cool to ride your mountain bike on early foot and horse trails like Clear Creek, Genoa Loop, and Ash/King Canyons. Famous author Mark Twain traveled from Virginia City over the Sierras via King Canyon on his way to Tahoe and upon his first glance of the Lake stated "… it must surely be the fairest picture the whole earth affords", as he recorded in his book Roughing it.
Enjoy this great video from Visit Carson Valley that shows the awesome experience and stunning scenery while mountain biking in the Carson Valley: "Mountain Bike Sierra Canyon to Genoa"
No less historical are road-cycling rides along Jacks Valley Road and Foothill Road, which is the original California Trail route from Missouri Kansas to the gold fields. Along the way, pioneers stopped at the first settlement and saloon in Genoa, NV to refresh themselves and their horses. Today, you can refresh yourself at the same Genoa Bar dating back to 1851. Diamond Valley Loop, a 30-mile ride beginning and ending at the foot of Kingsbury Grade, NS 207, is another favorite road ride.
Cyclists looking for longer rides with elevation gains can choose one of the area's most famous rides, The Emigrant Loop, traveling from South Lake Tahoe over Luther Pass, east to Foothill Road, and up and over Kingsbury Grade to return to South Lake Tahoe. The Amgen Tour of California professional bike race recently used this 52-mile loop.
Aside from the unique historical significance of these rides is the fact there are very few cars on the road – making for safe and enjoyable rides traveled by others more than 150 years before you.
Carson Valley Bike Rides: How to Use the Map:
1) Browse the ride list, click the name of the ride to see its placement on the map OR Click the icons on map to view pop-up ride information.
2) Click "Ride Details" to be taken to the individual ride page with maps, directions, photos and more.

Phones/Tablets: We recommend viewing the map in landscape/horizontal position.