California Alps Bike Rides – Guides & Maps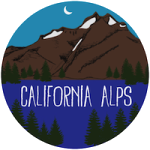 California Alps bike rides are generally located just 20 miles south of Lake Tahoe, covers an area combining California's early history with the wildness of majestic peaks, high alpine lakes, and the lowest populated county in the State (Alpine County, pop. 1,460). All these attributes make for some of the best road cycling and outdoor adventures in the West.
The area of the California Alps bikes rides is the home to several long-standing road-cycling events like The Death Ride: Tour de California Alps, which challenges 3,500 riders from all over the world to ride 129 miles over five mountain passes with 15,000 feet of elevation gain. The passes they ride may include Monitor, Carson, Ebbetts, Luther and some years Daggett. Each of these passes have rich historical significance in the early formation of California's statehood.
When you ride westbound on Hwy 88 over Carson Pass, in route to Kirkwood Mountain Resort, you can imagine Kit Carson, the scout and guide for General John C. Fremont, spotting and recording their sighting of Lake Tahoe for the first time in 1844.
In 1848, gold was discovered just 30 miles west near Placerville, California and prompted the largest emigration in US history. These gold seeking emigrates, Pony Express riders and Wells Fargo Stage lines sought routes to the gold fields and enterprising families built these mountains pass roads that now offer great road cycling routes.
During the week, road cycling on Blue Lakes Road, Ebbetts Pass and Monitor Pass provide a great getaway to ride in solitude or with friends to the top of high alpine passes overlooking the wild part of California.
The quaint town of Markleeville offers an ideal setting to stock up on goods or refresh yourself at the saloon at the end of your ride. This area also offers great trout fishing and landscapes the attract artists and photographers to capture its beauty – particularly the gold Aspen trees in the fall.
California Alps Bike Rides – How to Use the Map:
1) Browse the ride list, click the name of the ride to see its placement on the map OR Click the icons on map to view pop-up ride information.
2) Click "Ride Details" to be taken to the individual ride page with maps, directions, photos and more.

Phones/Tablets: We recommend viewing the map in landscape/horizontal position.