From Foot Paths to Bike Ways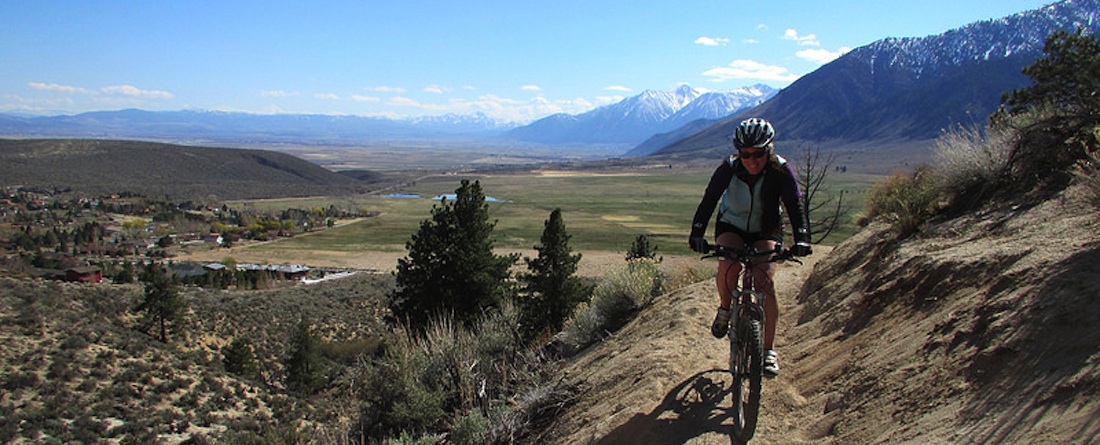 Written by Ty Polastri – The Lake Tahoe area has a rich and fascinating history about the people and events that have significantly influenced the region and helped shape Tahoe as we know it today. In fact, many of the bike rides in this Guide are either on or near ancestral foot paths, emigrant wagon train trails, Pony Express routes, logging and mining roads, and the first Transcontinental Highway.
Among some of these historical routes are glimpses today of sections or actual rides on these historical routes. Other rides are on rerouted and paved historical routes that are now serving the modern travel needs of bicyclists and motorists.
As much as possible, each bike ride in Tahoe's Ultimate Bicycling Guide has a section describing its historical significance. This is offered in hopes it may enrich your Ride of a Lifetime by connecting you to the Wild West frontier that once flourished here not that long ago. You can imagine what it must have been like during those early days to see Lake Tahoe for the very first time and perhaps share Mark Twain's description, "it surely must be the fairest picture the whole earth affords". You can also quench your thirst by riding up to Nevada's first saloon (Genoa Cruise) or travel at a pace more attuned to absorbing the natural beauty of Tahoe's landscape and the many activities, and amenities available to you.
Below is a brief summary highlighting some of the historical milestones that have helped influenced the Lake Tahoe region's development and shaped our bicycle riding adventures. Be prepared to enjoy your ride through time.
Tahoe's Cultural History Milestones
In the beginning – Washoe, Paiute and Miwok Trail Blazers
Many of the bicycle rides follow the evolutionary development that began thousands of years ago when the ancestors of the Washoe, Paiute and Miwok tribes traveled by foot and horse to Lake Tahoe during the summer months seeking edible plants, fish, and resources to weave baskets (local baskets are on display in the Smithsonian Institute). They lived a sustainable lifestyle – not contaminating the pure water or depleting the natural resources their lives were so dependent upon. The Washoe lived primarily in the Carson Valley area, the Paiute north in the Truckee Meadow-Pyramid Lake area and south near Mammoth, and the Miwok lived on the western slope of the Sierras in the foothills.
Their foot paths were either intuitively selected by taking the most advantageous topography or as many ancient cultures around the world sought the source of sweet water (life dependent fresh water) that came from the Gods high above in the cloud capped mountains. Whichever motivation prompted their travels they favored the water drainage canyons of the Carson River, Clear Creek, South Fork of the American River, and Truckee River. Today, each of these routes is either ridden by bicyclists and/or motorists.
Euro-American Explorers
The first recorded crossing of the Sierra Nevada Mountains by Euro-Americans was Jedediah Smith, a trapper, who in 1826 crossed what is now Ebbetts Pass. John C. Fremont, a military officer and explorer, hired Kit Carson to guide him on an exploration of the Wild West from Missouri to the west coast in 1844. On one such surveying trip they got a glimpse of Lake Tahoe from Red Lake Peak near Carson Pass named by Fremont in honor of his guide Kit Carson. They are recognized as some of the first non-native Americans to see Lake Tahoe.
Westward Emigration Charts Early Transportation Routes over Sierras
In the 1840's people were coming to California by ship around Cape Horn and overland by horse-drawn covered wagons. In 1844, the Stephens-Murphy-Townsend Party became the first wagon train over the Sierras crossing at Donner Summit. In 1846-47 the Donner Party attempted to cross the Summit and was unsuccessful. In 1848 the Mormon Emigrant Trail over Carson Pass was established as an alternative route to the Donner Summit route. Donner Summit was consistently formidable with steep rock walls and blocked by twenty foot deep snow banks. Increasingly more wagon trains were coming west – traveling 2000 miles from Missouri over the course of four to five months. 250,000 emigrants traveled to the gold fields and rich farmlands of California during the 1840's to 1850's – the greatest mass migration in American History.
Wealth Fever Prompts Entrepreneurism and Movement
Gold was discovered in the South Fork of the American River by John C. Marshall at Sutter Mill, in Coloma, California on January 24, 1848 – just 60 miles west of South Lake Tahoe. To the north of South Tahoe, some 40 miles, silver was discovered in Virginia City, Nevada in 1859 and called the Comstock Lode. Although word of these discoveries traveled slowly overland across the U.S. or by sea to Europe, they prompted many wealth seekers from east of the Mississippi River and as far away as Norway, England, Spain, and Italy to travel west and claim their fortune.
However, not all fortune seekers became wealthy from the mineral riches of gold and silver. Some discovered short-term wealth by setting up logging operations that cut away the abundant forests of Tahoe to produce timber for shoring up the silver mining tunnels in Virginia City. Others built way stations (Genoa, Van Sickle, Friday's /Edgewood, Yanks and others) to house, feed, supply, and refresh the weary travelers. Many toll roads (Kingsbury Grade, Johnson Pass, and Ebbetts Pass to mention a few) were built to exploit travelers willing to pay a fee to either gain access or as shortcuts to their destinations. Rich grasslands (Carson Valley) and high alpine meadows (Squaw Valley, Hope Valley, and others) captured some to settle and raise hay, sheep, dairy cows to produce butter, and cattle to feed the rapidly growing populations in the mining camps.
The thirst for gold and silver was equally matched with the thirst for water to support the growing population and mining industry needs in Virginia City. Water was diverted from Alpine lakes (Marlette Lake) and creeks (Hobart Creek) in the Carson Range (Lake Tahoe Nevada State Park) and directed down Clear Creek Canyon (Hwy 50) with the construction of an intricate flume system – an engineering marvel for its time. Today, some of nation's top mountain bike rides are along these flume routes (Flume Out/Back).
Increased Need for Mobility & Communications
Now fueled by these wealth producing discoveries a second emigration wave created the need for better transportation routes to deliver the mail, freight and supplies for the mining operations on both the western and eastern sides of the Sierra Nevada Mountain range.
Wells Fargo Stage Line
In 1849 Wells Fargo started its stage coach lines and by 1875 there were regularly scheduled trips between Sacramento and Carson Valley traveling over Echo Summit. One of the stops was at Friday's Station/Edgewood in Stateline, Nevada. Today, there is a Wells Fargo bank just across the street from the commemorative plaque on the corner of U.S 50 and Lake Parkway bordering the Edgewood Tahoe Golf Club. This is an original station location for the Wells Fargo Stage Line.
Pony Express – Overland Mail Delivery
With the population growing and the need for better communications for an isolated California, during threat of Civil War, the Pony Express mail delivery system was officially launched on April 3, 1860. Important communications and news traveled 2,000 miles by horseback across country from St. Joseph, Missouri to Sacramento, California. The first westbound trip was made in 9 days and 23 hours. Eventually there were more than 100 stations, 80 riders, and between 400-500 horses. The riders would cover 250 miles in 24 hours.The Pony Express came through Carson City, Genoa, Van Sickle Station, over Kingsbury Grade and entering California with stops at Friday's Station (later named Edgewood), and Yanks Station Toll House, in Meyers. Another route traveled along the Emigrant Trail and stopped at the Woodfords Station before traveling over Luther Pass (Hwy 89) en route to Echo Summit. Today, each of these stations has a historical nameplate honoring the Pony Express:
Carson City Station (39.16175 / -119.76966)
Genoa Station (39.004333 / -119.837972)
Van Sickle Station (38.972417 / -119.837972)
Friday's Station/Edgewood (38.964140 / -119.938751)
Yanks Station Toll House (38.855875 / -120.013011)
Woodfords Pony Express Station (38.776711 / -119.822477)
The service lasted only 19 months and ended October 24, 1861 due to financial bankruptcy and the invention of the telegraph that was established in October 1861. Then with the completion of the railroad in 1869 transcontinental mail was sent by train while stagecoaches continued to deliver local mail. You can ride these sections of the Pony Express routes (Jacks Valley, Pony Express Out/Back, Emigrant Loop, and South Tahoe Loop).
Snowshoe Thompson – Winter Mail Delivery
Snowshoe Thompson, a local Tahoe/Carson area legend carried mail over the Sierra Nevada Mountains during the winter months from 1856 to 1876 – as a volunteer because he felt the mail needed to be delivered. A Norwegian immigrate with skiing experience, Thompson made ten foot long skis and used a single sturdy pole to help transport him up and down the snow covered mountains. He could travel from Genoa, Nevada to Placerville, California in two days and return in three days. He would travel through South Lake Tahoe and go over Echo Summit at Johnson's Cutoff, (a pathway first marked by early explorer and first to deliver mail over the summit, John Johnson). This path would later become a part of the Lincoln Highway and is currently paved and still serving as an alternate cutoff for U.S. 50 and as an access road to Echo Lakes.
Snowshoe Thomson's homestead is located on the Diamond Valley Loop Ride. There is also statue honoring him at the Mormon Station State Park in Genoa, Nevada.
Mark Twain – Adventurer and Writer about Tahoe and the Comstock
Mark Twain was the pen name of Samuel Clemens — an adventurer and writer who wrote about the West and his other travels. Like many early westward pioneers, in 1861 he departed from his home in Missouri to travel by stagecoach to Nevada Territory and landed in Virginia City, Nevada during the feverish time of the Comstock Lode. He tried his hand at mining and was largely unsuccessful. He then turned to journalism and worked for the local newspaper writing about mining life, Tahoe and the west. In 1872, he wrote Roughing It, a book which described his many adventures and experiences in and around the Tahoe area. One of his most notable Tahoe quotes was "it surely must be the fairest picture the whole earth affords" which appeared in Roughing It. He became a prolific writer and lecturer with two of his works American novel classics: Adventures of Tom Sawyer (1876), and Adventures of Huckleberry Finn (1884).
First Transcontinental Telegraph
On October 24, 1861, the first transcontinental telegraph system was completed. It connected an existing system in the East coast with a new line through Omaha, Nebraska, Salt Lake City, Utah, and Carson City, Nevada. This advanced communication system could now transmit messages nearly instantaneously from coast to coast using the Morse Code developed by Samuel F.B. Morse. This important communication system helped accelerate development of the west and the end of the Pony Express.
First Transcontinental Railroad
The "Pacific Railroad" was built by Union Pacific Railroad and Central Pacific Railroad companies between 1863 and 1869 to connect the east and west coasts. The Pacific Railroad Act of 1862 authorized land grants which provided the necessary incentive for the companies to lay the lines. The railroad companies sold these land grants and it dramatically opened up settlements across the plains and deserts of the West. It was a bold move because construction began just before the Civil War. Now, the bi-coastal link provided a fast transport of freight, supplies and passengers across the country – significantly impacting the slower and dangerous overland migration by covered wagons and stage coaches. Today, many of these same lines remain in use by the California Zephyr railroad.
Local Narrow-gauged Railroad
In the early 1900's, a narrow-gauge railroad line was built to transport logs from Glenbrook, Nevada (on the East shore of the Lake) through Tahoe City en route to the mills in Truckee. That original rail line provides the current easement and foot bed for popular bike rides in the Tahoe City area (North Tahoe Cruise) and the (Historic Truckee River Cruise).
Trails, Roadways to Bikeways
The mass westward migration on horse-drawn covered wagons began imprinting the landscape with preferred routes. Those early routes by western explorers and emigrants remain with us today as roadways and bikeways. Near Salt Lake City, Utah the travelers made a decision to either go the northern route, known as the Oregon Trail, (traveling near the Humboldt River drainage) or the southern route (Carson River drainage) which became known as the California Trail. There were and continue to be two primary routes crossing California: The Truckee Route to the north which became State U.S. 40 and later Interstate 80, and the Carson Route to the South that includes U.S. 50 and Hwy 88.
Monitor Pass – Hwy 89
In the spring of 1827, Jedediah Smith, the first Euro-American to cross over the Sierra Nevada Mountain range, traveled from Ebbetts Pass over Monitor Pass and into Nevada. Later in the 1860's the town of Monitor was a booming silver mining town with many miners and freight wagons traveling over Monitor and Ebbetts Pass roads. Today these two passes are popular road bike rides (Monitor Pass and Ebbetts Pass) and are two legs of the annual Death Ride: Tour de California Alps bike ride. These two roadways are closed during the winter months due to snow coverage.
Northern California Trail – Truckee/Donner Pass Route US 40/80
The Donner Pass route, over the Sierra Nevada Mountains, was first used by emigrant wagon trains in 1844. In 1869, the Transcontinental Railroad crossed the pass, and in 1913 automobiles made the trip. It became state route U.S. 40 and later the Interstate U.S. 80. Today the historic Donner Pass Road (U.S. 40) is a great bike ride to the Summit over looking Donner Lake (Historic Donner Pass Ride), and at the base of the Summit is the Donner Lake State Park honoring the ill fated Donner Party attempting to cross the Sierras at this location during the winters of 1846-1847.
Southern California Trail – Carson Route US 50/Hwy 88
Seeking an alternate route to the formidable Donner Pass, emigrates followed the Carson River flood plain in Nevada passing through Carson City, and Genoa, and either took the toll road up Kingsbury Grade (NSR207), or continued to Woodfords Station (Hwy 88)and up over Luther Pass to what is now Hwy 89. If they took the Kingsbury Grade route they came upon the Lake Tahoe Wagon Trail road which became the Lincoln Highway and later U.S. 50. This route is a popular road ride and part of The Emigrant Loop Ride.
Emigrant Trail – NSR206/Hwy 88
Local sections of the California Trail took on their own identity. The trail traveling from Carson City on Jacks Valley Road to Genoa became the Emigrant Trail (NSR206/Foothill Rd) to Woodfords. Woodfords Station, located on Hwy 88, was an important Pony Express station and emigrant route to either Luther Pass or Carson Passes in California. On the western slope of Carson Pass is the Mormon Emigrant Trail built by the Mormons as an alternate route to traveling over Echo Summit and thereby connecting Placerville, California with their station in Genoa, Nevada. This trail is now a paved road but only open in the summer months. Popular road rides here are Emigrant Loop and Carson Kirkwood Out/Back. For a short relaxed historic ride, try the Genoa Cruiser Ride.
Pony Express Trail (1860-1861) – NSR 206, NSR207, Hwy 88
The Pony Express Trail followed the California Trail from the east and then once near the Sierra Nevada Mountain range it followed the Emigrant Trail stopping at Genoa, Nevada and Woodfords Stations (Hwy 88). An alternate route veered up and over Kingsbury Grade (NSR207) with stops at Friday's Station in Stateline, Nevada and Yanks Station in Meyers, California (U.S. 50). Once at Meyers, they rode over the summit at Johnson's Cutoff later renamed Echo Summit. The route from Stateline and over Echo Summit became part of the Lincoln Highway and later U.S. 50. Road rides here are the South Tahoe Loop and Pioneer Trail Out/Back along some of these historic routes.
Kingsbury Grade – NSR207
The original Kingsbury Grade wagon road was built in 1860 by Kingsbury, McDonald and financed in part by Henry Van Sickle who also served as its toll master. This route shortened the distance between Sacramento, California and Virginia City, Nevada by 15 miles. They charged $17.50 for a wagon and four horses to travel round trip between Shingle Springs, California and the Henry Van Sickle's Way Station near the current junction of NSR207 and NSR206 (Foothill Rd.). Today's Kingsbury Grade (NSR207) travels on sections of the original Grade, while other portions of the old route are on private property and not accessible. However, there is a visionary discussion among political leaders and bicycle advocates about reopening old Kingsbury Grade for bicycle travel. For an historic mountain bike ride try the Pony Express Out/Back as this is part of the original route.
Pioneer Trail
The current Pioneer Trail road travels from one mile west of Stateline, Nevada to Meyers, California. Originally, it was part of the Southern California Trail the Pony Express, wagon trains and Wells Fargo Stages traveled. Today, it's a great across town road ride – Pioneer Trail Out/Back, South Tahoe Loop or The Emigrant Loop Ride.
Luther Pass – Hwy 89
The emigrants who chose not to pay the $17.50 toll fee to take the Kingsbury Grade shortcut to Johnson Pass/Echo Summit traveled along the Emigrant Trail (Foothill Rd./SR206) to Woodfords Station. There they headed west up the Carson River canyon (Hwy 88) to Hope Valley. At Pickett's Junction, (Hwy 88/Hwy 89), they turned right and headed up and over Luther Pass (Hwy 89) en route to Echo Summit. This route is part of The Emigrant Loop Ride.
Brockway Summit – Hwy 267
Once the Transcontinental Railroad was completed in 1869 and early tourists from the East arrived at Truckee, California, a road was built over the summit (7,199') to take them to the famous Brockway Springs Resort located on the north shore of Lake Tahoe (between Kings Beach and Stateline, Nevada). This is the location of the only hot springs literally in the lake – just off shore from the resort. The road called North Shore Blvd. also became useful for transporting logs to the mills in Truckee. Later, the road became Hwy 267 and is an important route connecting the northern area of Lake Tahoe with the Northstar California ski resort, Town of Truckee, and Interstate 80 to Reno, Nevada or west to Sacramento, California. This is also a route for the Brockway Summit Loop Ride.