Tahoe East Shore Trail Cruiser Bike Path Details
Challenge
This is a shared-used path from Incline Village to Sand Harbor State Park. Starting from Incline Village is a half mile 8% climb followed by a downhill descent to the tunnel. The balance of the path is level. Caution is needed due to a lot of user groups.
GPS Trailheads
North end, Incline Village: 39.2335114, -119.332954
South end, Sand Harbor Park: 39.2322028, -119.9300141
Trailhead
You can start at either end of the path: Incline Village on the North end or Sand Harbor State Park at the South end. There is paid parking at both locations.
The Bike Ride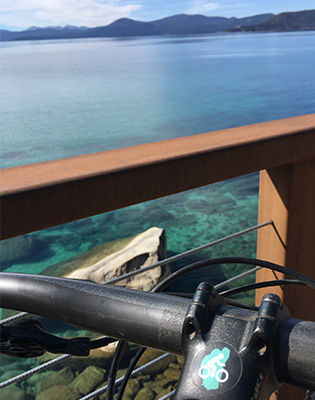 COVID UPDATE:
Presently, summer 2020 the trail stops at 2.5 miles from Incline start. There is a gate to control visitors to Sand Harbor as a Covid Virus mitigation tactic.
Tahoe East Shore Trail: This is one of the most beautiful bike paths in all of Lake Tahoe because of its spectacular Lake views and water access. Here you can see the Tahoe's famous crystalline waters with a palette of colors as the depth changes. There are 11 beach access points and 16 vistas. Bike racks are available along the way.
The beauty and accessibility make this ride very popular. It can receive a lot of traffic by: walkers, baby strollers, seniors that may be hearing impaired and/or using walkers, pets on leases, people wearing earphones, and bicyclists. Having a bell on your bike to alert others when passing would be a good idea. No bell, verbally notify others of your presenceAlso, Dog owners have reported during hot summer days, their dog's pads have been burnt so caution and planning is strongly suggested. Along with planning are considerations if you intend to spend time at the beach and have what you need, or you are just going for a casual ride.
Conveniently located at each end of the path are vendors for food and beverages at the State Park and at a local's favorite – Tunnel Creek Café. At the Café, you also rent bicycles and hire a bike shuttle service to take mountain bikers to the Marlette Flume Trail at Spooner Lake, Incline Flume Trail, or the Tahoe Rim Trail higher up Mount Rose Highway.
Historical
The trail opened in June 2019. It has been a long held vision for decades by many. To accomplish this seemingly impossible construction along the lakeside steep slope took the collaboration by federal, state, and local governments along with non-profit organizations – an excellent example of a public/private partnership.
This trail is an important segment for The Tahoe Trail that will eventually surround the entire Lake in the future. Current planning efforts are working to continue the trail from Sand Harbor State Park and travel 8 miles southward toward other Nevada State Park at Spooner Lake, near the junction of Hwy 28 and Hwy 50.