Incline Flume Trail Out & Back, Mountain Bike Trail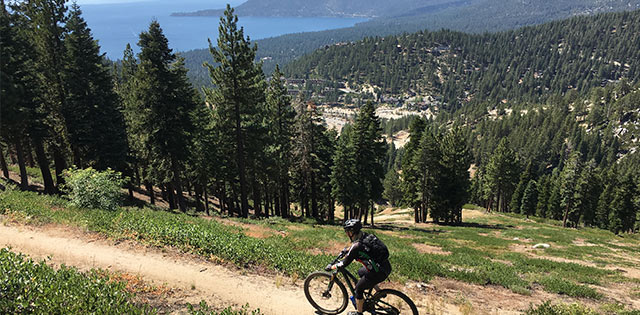 Challenge
A single track trail traversing across the western slope of the Carson Range with little elevation gain.
Trailhead
Travel up Hwy 431, Mount Rose Highway, and continue pass the large overlook vista area on the right for about 0.4 miles. On the left, you will see a wide area to park. From here, carefully ride across the highway and descend about 75 yards to the trailhead.
GPS Coordinates
Trailhead: 39.2677969, -119.9309209
Parking: 39.2677969, -119.9309209
The Bike Ride
Incline Flume Mountain Bike Trail: This is a fun and picturesque out and back single track ride for the entire family. Not to be confused with the world famous Marlette Flume Trail, this is a less technical trail, sharing much of the same vistas as the Marlette Trail. It is a popular ride because it has little climbing, consistently traversing at 7,500 feet of elevation, and has only a couple of short (6-10 foot) rocky spots at spring crossings to help prevent water erosion, and a narrow (foot wide) sandy traverse of about 75 yards high above Diamond Peak Ski Resort. Toward the end, you will notice a steep descent to junction with Tunnel Creek Road. Keep in mind, that the steep descent is a steep climb on the return. Look forward to knowing that very trail looks different in the opposite direction. Also, it is advised that when you want to gaze at the fantastic views, stop riding because the body follows your attention (head) and will alter your steering on a narrow trail.
Options
If you are interested in more challenging terrain (increased distance and climbing):
Connectors
At the southern end of the trail you will junction with Tunnel Creek Road. Here you can turn left and climb to the junction of Marlette Lake Flume Trail or continue climbing up Tunnel Creek Road to connect to Hobart Reservoir. You will need to plan for more water and nutrition for these two options.
A Loop
To increase your challenge and distance, you can choose to do a loop by riding from Incline Village or East Shore Trail parking area, up Mt Rose Highway to the Incline Flume Trail, then descend Tunnel Creek Road to your starting position. From East Shore Trail parking area, ride north on Hwy 28 a mile and turn right on Country Club Drive. Turn right on Ski Way for a mile and veer left onto Fairview Blvd. (not marked until a little further uphill), climb 2.5 miles to Hwy 431 (Mt. Rose Hwy) junction. Turn right and climb up to the Incline Over Look, about .5 miles (a great bird's eye view on Incline, Diamond Peak Ski Resort and Lake Tahoe), then continue .4 miles to the Flume trail head – a total of 5.5 miles. Add 6 miles on the Flume and 2.5 miles down Tunnel Creek Road and you have a 14-mile loop.
Historical
This trail pad is a remnant from 1880 to 1894 when V-shaped wooden flumes used water to transport processed timber from the milling operations in the Tahoe Basin to the silver mines in Virginia City. Lumber milling operations were extensive in Tahoe and the need to transport timber was essential to structurally support the mine shafts of the Comstock Silver Lode. The V-shaped flumes were first developed and used here in Tahoe.
In more recent times, this trail was largely unmaintained and only known by Incline Village locals who would use it for hiking and snowshoeing. Little was known about it because it passed through private property and was not well maintained. But in 2017, the property owners helped complete a land swap that would lead to the USFS gaining ownership and with the help of nonprofit organizations would contribute to ongoing trail improvement and maintenance.