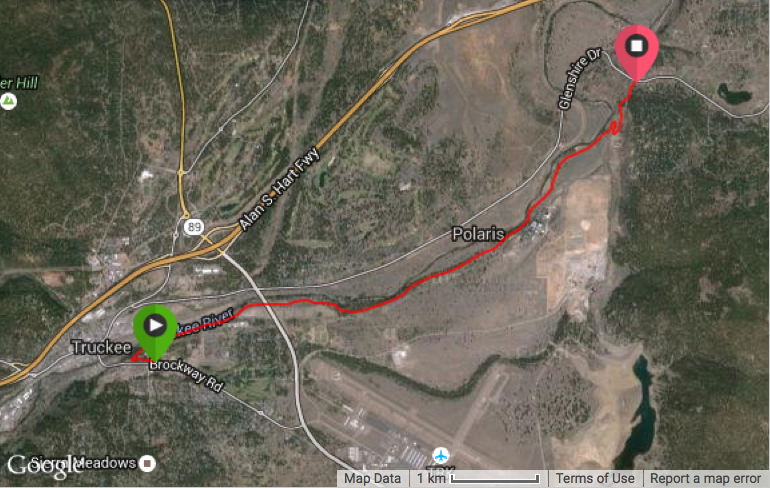 Truckee River Legacy Cruiser Bike Path Details
Challenge:
Initially, very short steep descent from the river terrace (park area) to the flood plain. At the Glenshire end of the ride is a longer steep climb that would be a challenge for single speed children's bikes or children's trailers.
Trailhead:
Trailhead located at Truckee River Regional Park on Brockway Rd. just outside Historic Downtown Truckee.
GPS: 39.3279646, -120.174727  (Truckee River Regional Park)
GPS: 39.35440, -120.114361 (Glenshire Dr.)
The Ride:
Truckee River Legacy Cruiser Bike Path: This is a beautiful and relaxing ride for the entire family on a dedicated shared-used path that travels alongside the Truckee River. You can start/finish at the Truckee River Regional Park that has grassy areas for summer play activities, picnics, water and restrooms. Along the ride are many benches to sit and relax, and interpretive signs offering interesting historical and flora/fauna information. The trail also offers connections to Riverview Sports Park and connections to East River St. and Ranch Way.
Historical:
Some 10,000 year ago the Washoe and their ancestors lived and fished along the river. They built fish camps to catch Lahonton Cutthroat Trout and the Tahoe Sucker as a primary food source. In the late 1880's, some of the river's pristine waters were channeled into man-made ponds to be frozen into ice during the winter months and then shipped across the country as an important ice supplier. Today, portions of the river are designated as Wild Trout Water to protect the native trout fishery and provide some excellent recreational fishing.